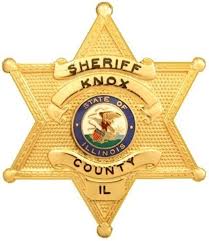 County Sheriff: Jack Harlan
Phone #: (309) 345-3733  Administrative Office
                 (309) 343-9151  Non Emergency
Fax Number: (309) 345-3724
Office Hours:  Monday-Friday 7:30AM-4:30PM
Location:
Knox County Law Enforcement Center
152 South Kellogg Street
Galesburg, IL  61401
Freedom of Information Officer:  Scott G. Erickson, County Clerk
Duties of Office: 
The County Sheriff's office provides a variety of services to the public including:
Work in partnership with the community to improve the quality of life by reducing the fear and occurrences of crime by enforcing the laws of the Land.
Maintain the following divisions of operation within the Department:

Animal Control
Correctional Division
Patrol Division
Investigation
Sheriff's Auxiliary

Provide D.A.R.E. drug abuse resistance education program.
Provide TRIAD program for elderly citizens in the County.
Snowmobile search and rescue program
Maintain crime stoppers system.
Assist with neighborhood watch programs.
Maintain the County Jail.
Maintain and operate the Knox County Courthouse and Knox County Law Enforcement Center.
How to get information:
Information can be obtained in person, by mail, or by telephone.  The Administrative office phone number is 309-345-3733.  Requests by mail should be sent to 152 S. Kellogg St., Galesburg, IL  61401.  Please visit www.knoxcountysheriffil.com for more information.
Employees:  Full Time
Annual Budget Available HERE