Welcome to the Knox County, IL website.
Information about Knox County government and its agencies is being made available for your use and review. Please feel free to visit this site regularly to view updated information. If you have a Freedom of Information request, please contact our Freedom of Information Officer in the Knox County Clerk's office. Requests for information can be submitted in the following methods:
  A response to your request will be provided within the statutorial timeframe. We hope you visit us often!
Knox County Needs your help!
We are conducting a survey of County residents internet service levels to better determine where broadband internet upgrades need to be focused.  Please use the following link to take this quick survey and help us to better serve the County.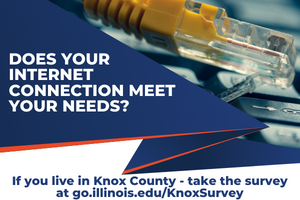 ARPA Grant Application now available!
The Knox County ARPA Task Force has created an application form for those wanting to apply for available American Rescue Plan Act grant funds.  Please download the form to your computer to complete and follow the instructions for submission. If you have any questions, you can email them to us  here.
Knox County ARPA Grant Application